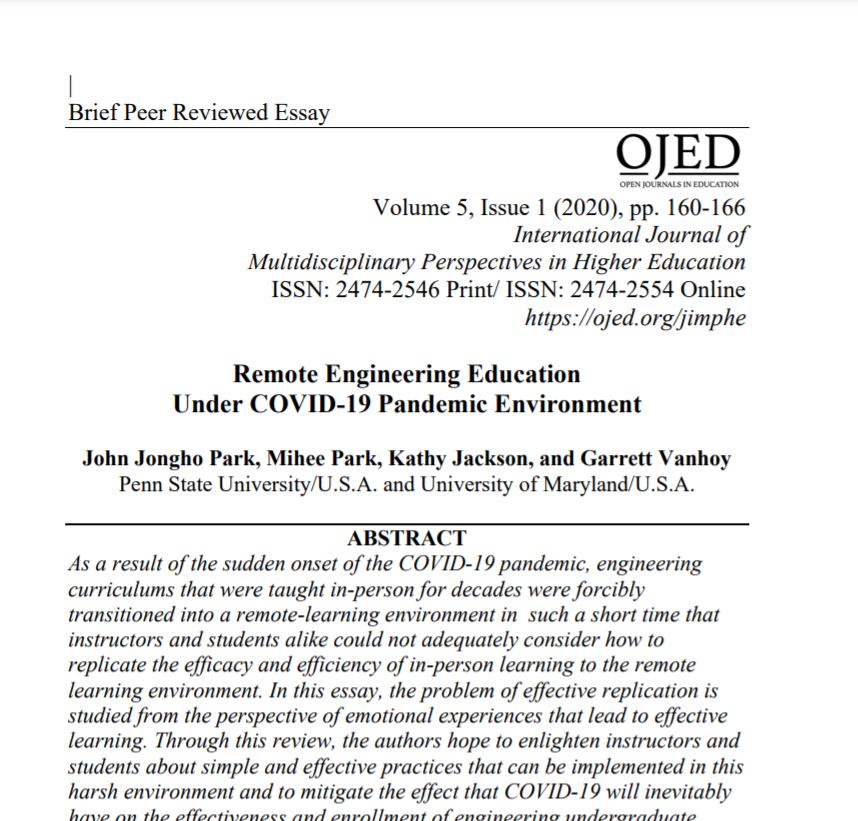 Remote Engineering Education under COVID-19 Pandemic Environment
Abstract:
As a result of the sudden onset of the COVID-19 pandemic, engineering curriculums that were taught in-person for decades were forcibly transitioned into a remote-learning environment in such a short time that instructors and students alike could not adequately consider how to replicate the efficacy and efficiency of in-person learning to the remote learning environment. In this essay, the problem of effective replication is studied from the perspective of emotional experiences that lead to effective learning. Through this review, the authors hope to enlighten instructors and students about simple and effective practices that can be implemented in this harsh environment and to mitigate the effect that COVID-19 will inevitably have on the effectiveness and enrollment of engineering undergraduate curriculums.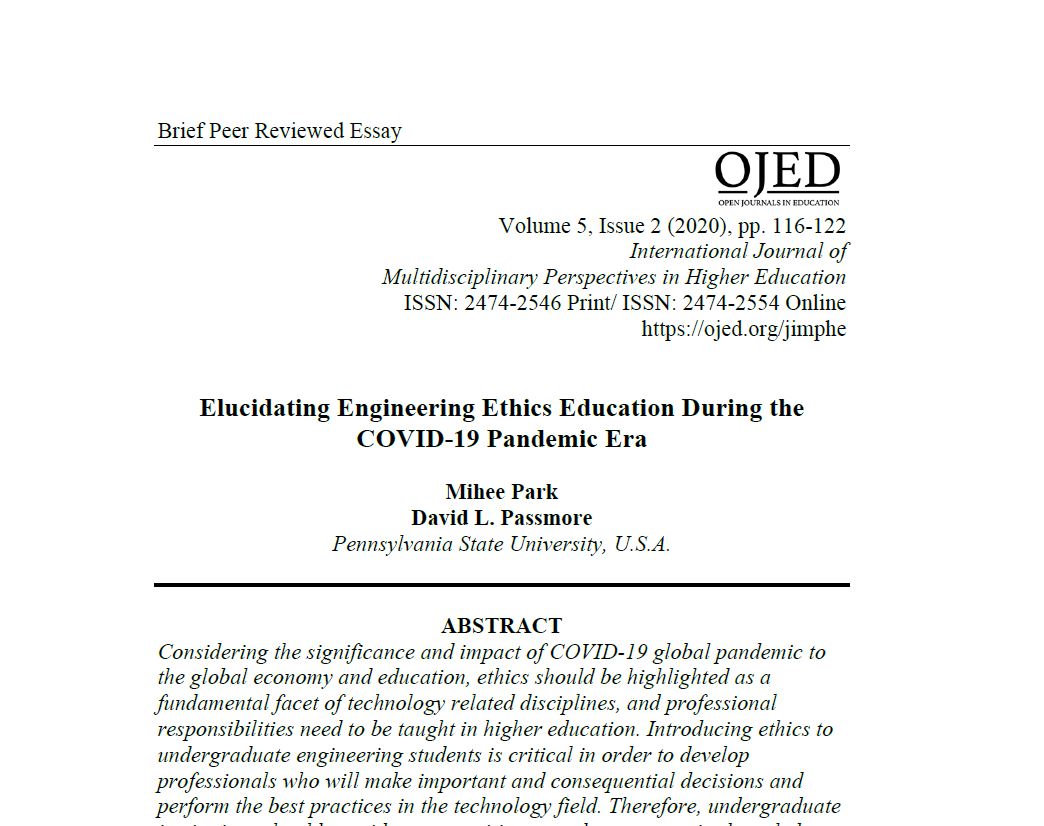 Elucidating Engineering Ethics Education During the
COVID-19 Pandemic Era
Abstract:
Considering the significance and impact of COVID-19 global pandemic to
the global economy and education, ethics should be highlighted as a
fundamental facet of technology related disciplines, and professional
responsibilities need to be taught in higher education. Introducing ethics to
undergraduate engineering students is critical in order to develop
professionals who will make important and consequential decisions and
perform the best practices in the technology field. Therefore, undergraduate
institutions should provide opportunities to students to acquire knowledge
and skills about ethical principles that affect engineering practices. This
essay addresses the history of engineering ethics education and some
challenges in higher education institutions in the United States.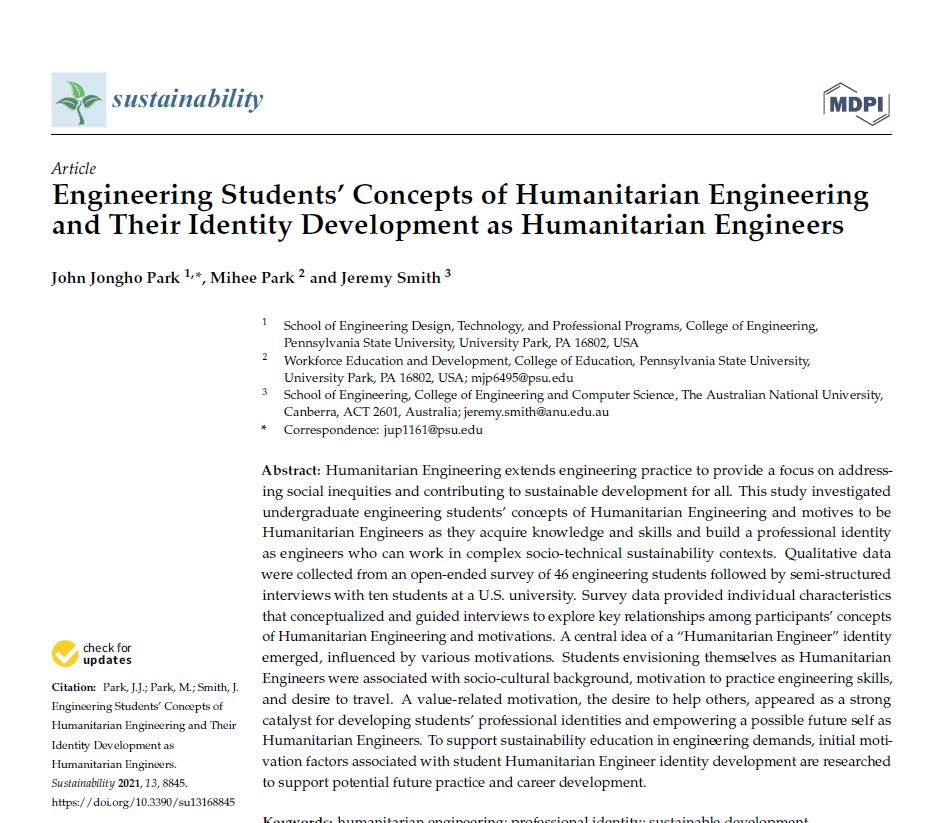 Engineering Students' Concepts of Humanitarian Engineering
and Their Identity Development as Humanitarian Engineers
Abstract:
Humanitarian Engineering extends engineering practice to provide a focus on addressing social inequities and contributing to sustainable development for all. This study investigated undergraduate engineering students' concepts of Humanitarian Engineering and motives to be Humanitarian Engineers as they acquire knowledge and skills and build a professional identity as engineers who can work in complex socio-technical sustainability contexts. Qualitative data were collected from an open-ended survey of 46 engineering students followed by semi-structured interviews with ten students at a U.S. university. Survey data provided individual characteristics that conceptualized and guided interviews to explore key relationships among participants' concepts of Humanitarian Engineering and motivations. A central idea of a "Humanitarian Engineer" identity emerged, influenced by various motivations.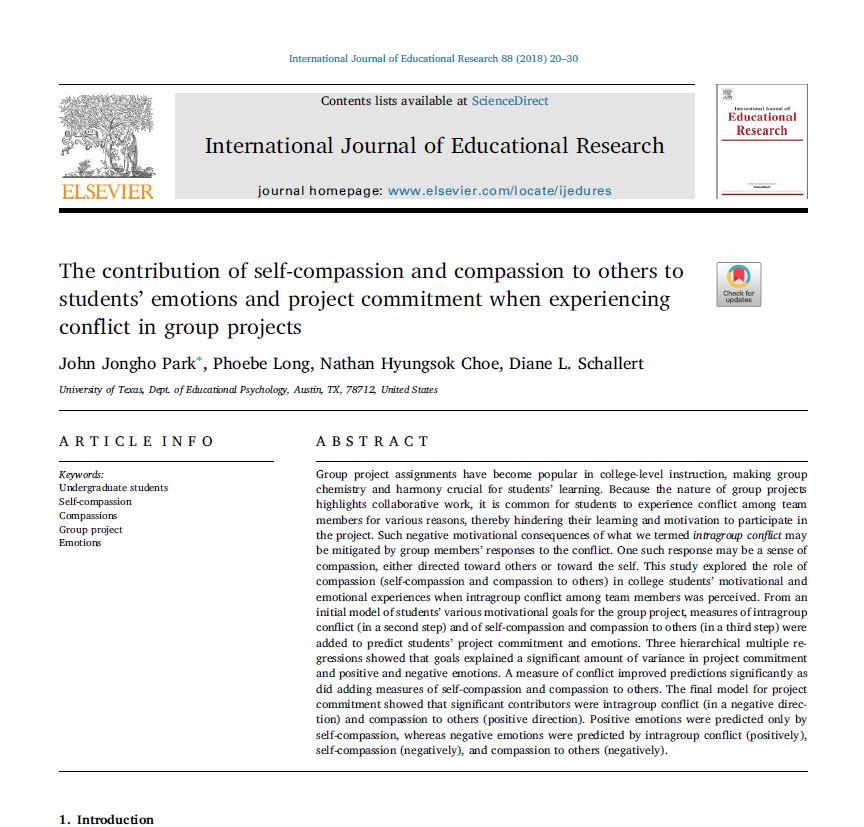 The contribution of self-compassion and compassion to others to
students' emotions and project commitment when experiencing
conflict in group projects
Abstract:
Group project assignments have become popular in college-level instruction, making group chemistry and harmony crucial for students' learning. Because the nature of group projects highlights collaborative work, it is common for students to experience conflict among team members for various reasons, thereby hindering their learning and motivation to participate in the project. Such negative motivational consequences of what we termed intragroup conflict may be mitigated by group members' responses to the conflict. One such response may be a sense of compassion, either directed toward others or toward the self. This study explored the role of compassion (self compassion and compassion to others) in college students' motivational and emotional experiences when intragroup conflict among team members was perceived.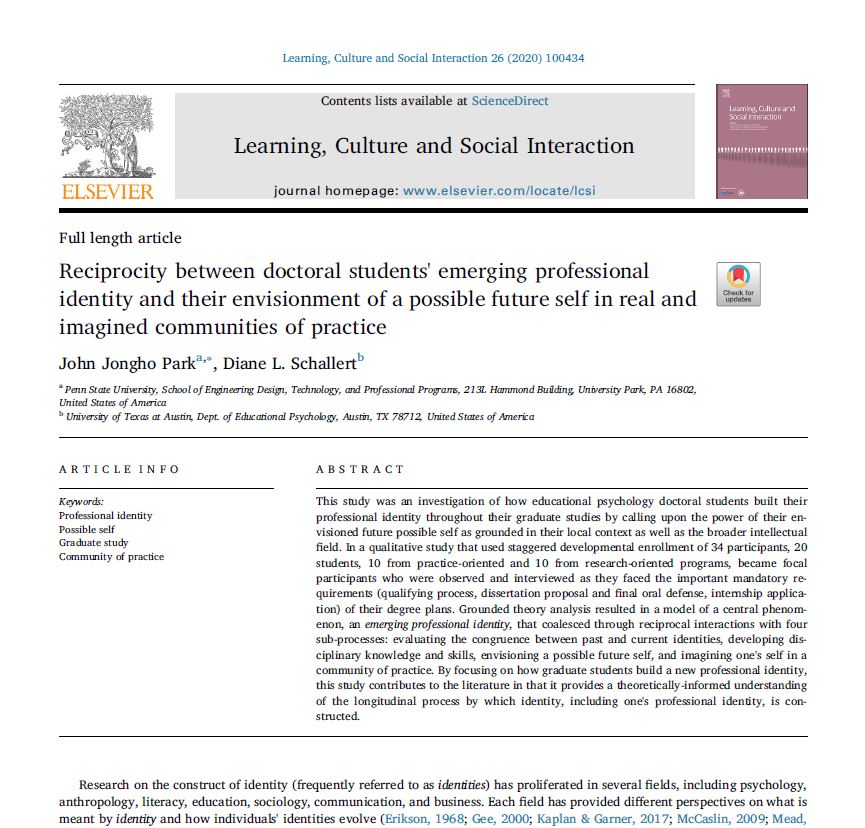 Reciprocity between doctoral students' emerging professional
identity and their envisionment of a possible future self in real and imagined communities of practice
Abstract:
This study was an investigation of how educational psychology doctoral students built their professional identity throughout their graduate studies by calling upon the power of their envisioned future possible self as grounded in their local context as well as the broader intellectual field. In a qualitative study that used staggered developmental enrollment of 34 participants, 20 students, 10 from practice-oriented and 10 from research-oriented programs, became focal participants who were observed and interviewed as they faced the important mandatory requirements (qualifying process, dissertation proposal and final oral defense, internship application) of their degree plans. Grounded theory analysis resulted in a model of a central phenomenon, an emerging professional identity, that coalesced through reciprocal interactions with four sub-processes: evaluating the congruence between past and current identities, developing disciplinary knowledge and skills, envisioning a possible future self, and imagining one's self in a community of practice.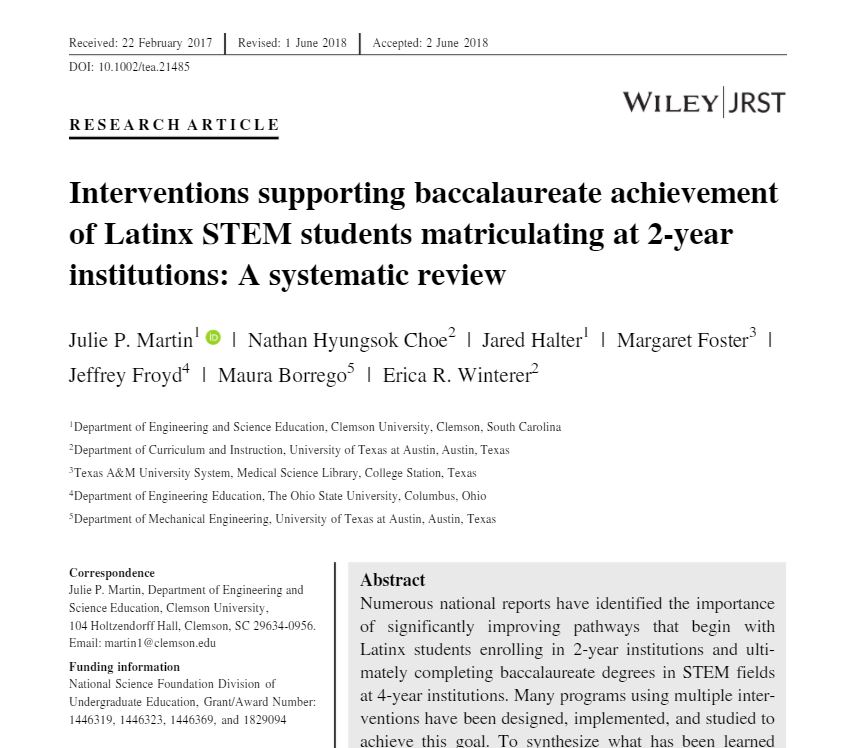 Interventions supporting baccalaureate achievement of Latinx STEM students matriculating at 2-year institutions: A systematic review
Abstract:
Numerous national reports have identified the importance of significantly improving pathways that begin with Latinx students enrolling in 2-year institutions and ultimately completing baccalaureate degrees in STEM fields at 4-year institutions. Many programs using multiple interventions have been designed, implemented, and studied to achieve this goal. To synthesize what has been learned from studies of these programs, this article presents a systematic review of published studies of programs designed to support Latinx student success in 2-year institutions and successful transfer to 4-year institutions, particularly for STEM majors. The lack of explicit frameworks underlying interventions—combined with a sole/primary focus on students—suggests many interventions were approached from a deficit-based perspective. Further, the study found no pattern of replication studies that might confirm effectiveness of potentially promising interventions.